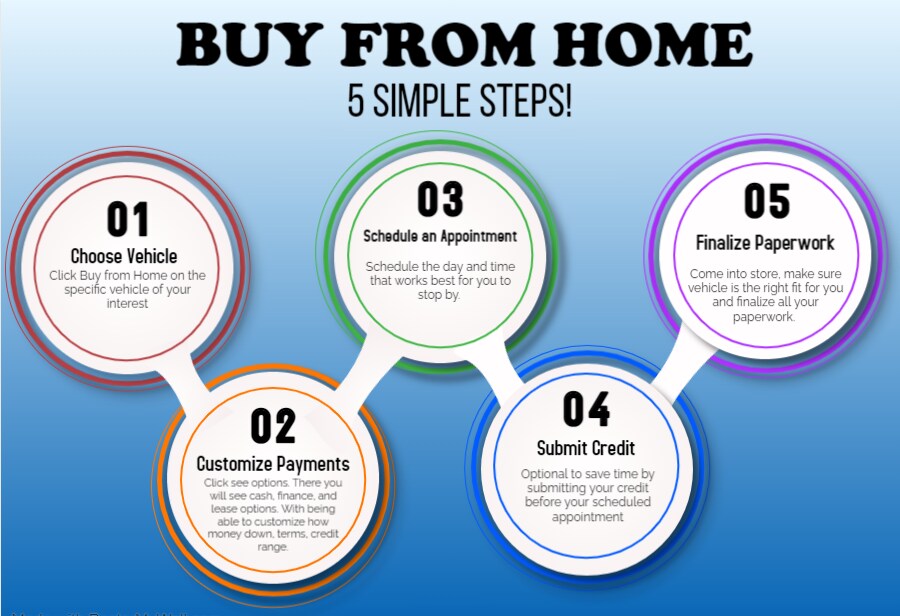 Choose Your Next Vehicle
Browse our large selection of inventory, to find the vehicle that best suits you! Our available inventory includes vehicles physically on our lot and vehicles that are in transit available to reserve. You will be able to pick your desired vehicle based off of the exterior color, interior color, features, packages, and accessories it comes equipped with from the manufacture.
Customize Payments
Once you start your Buy from Home process you will be able to customize payments by clicking "See Payment Options". You will be able to get estimated out the door quotes whether you are financing, leasing, or purchasing by cash. The program allows you to modify how much money you'd like to put as a down payment, your credit score range, and monthly terms for your desired vehicle.
Schedule Appointment
After you've picked out the vehicle that best fits your needs you will be able to schedule an appointment for a day and time that works best for you to come in and meet with a product specialist.
Submit Credit
The Buy from Home Process gives you the option to get 90% of the car buying process done at home. It allows you to submit credit before coming in to save time when in store.
Finalize Paperwork
Final step, pheww almost there! Once you verify that the vehicle meets all of your needs, you will meet with one of my finance managers, finalize your paperwork and take your dream vehicle home!
How Can We Help?
* Indicates a required field