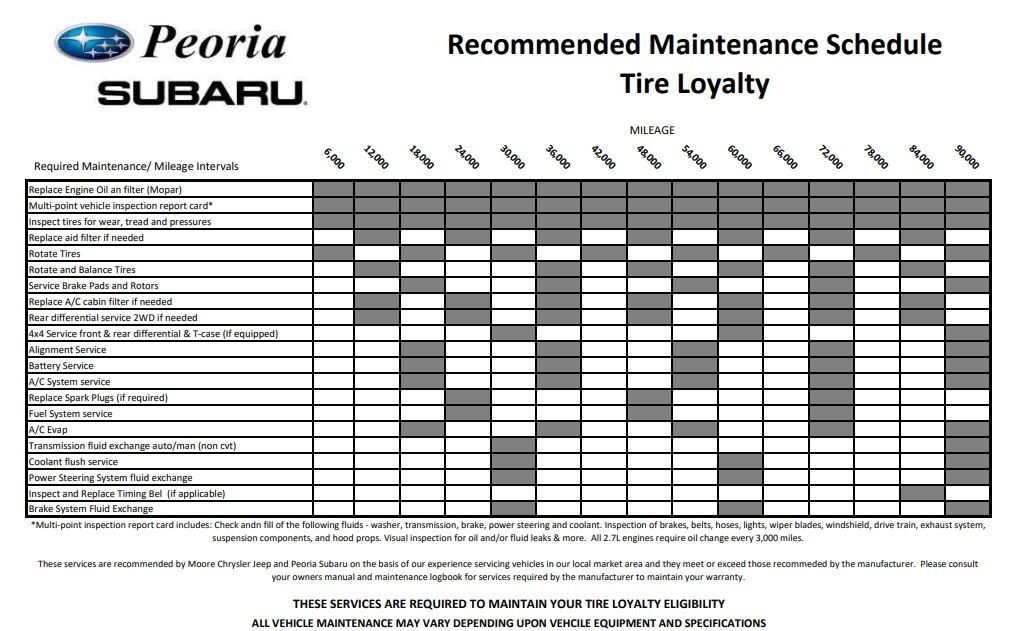 When you purchase your new Subaru with us, and complete the recommended services with Peoria Subaru, you receive TWO FREE SETS of TIRES with your vehicle purchase! Huge savings just for you! It's not IF you need tires, its WHEN you need tires! Peoria Subaru is the ONLY dealer to offer this Loyalty Rewards Program



* Multi-point vehicle inspection report card includes: Check & fill of the following fluids - washer, transmission, brake, power steering, and coolant. Inspection of brakes, belts, hoses, lights, wiper blades, windshield, drive train, exhaust system, suspension components, hood props, visual for oil and/or fluid leaks, and more.
** These services are recommended by Peoria Subaru on the basis of our experience servicing vehicles in our local market area and meet or exceed those recommended by the manufacturer. Please consult your owners manual and maintenance logbook for services required by the manufacturer to maintain your warranty. If your new vehicle was purchased at Peoria Subaru these services are required to maintain your Tire Loyalty eligibility.
All vehicle maintenance may vary dependent upon vehicle equipment and specifications.
*Not all vehicles qualify for the program. (WRX,STI, performance vehicles, modified, off-road ,etc) Please see dealer for details
Make an Inquiry
* Indicates a required field
Service Hours
Monday
07:00am - 06:00pm


Tuesday
07:00am - 06:00pm


Wednesday
07:00am - 06:00pm


Thursday
07:00am - 06:00pm


Friday
07:00am - 06:00pm


Saturday
07:00am - 05:00pm


Sunday
Closed